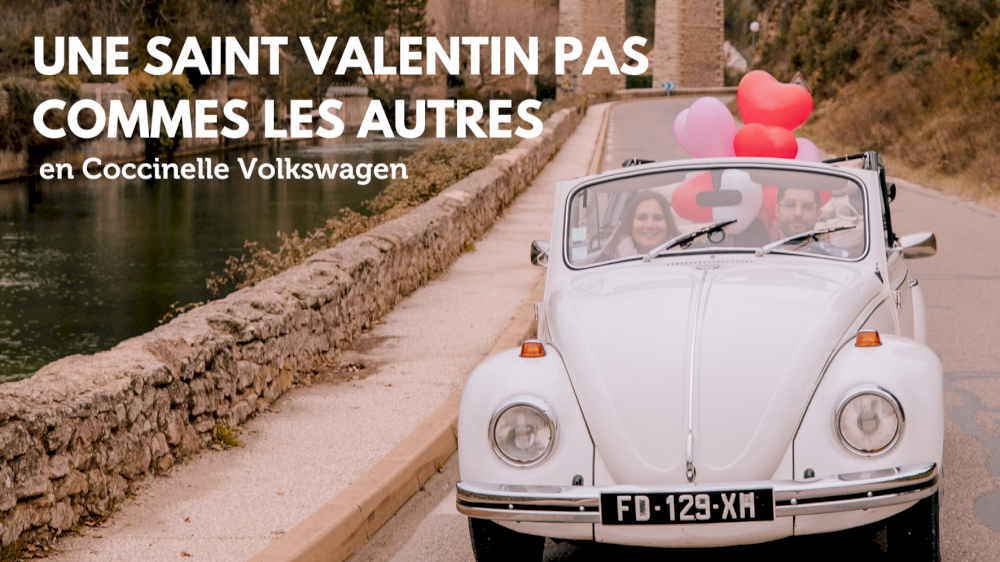 A Valentine's Day like no other (in a Volkswagen Beetle)
Celebrate Valentine's Day aboard a beautiful 2CV or an elegant Beetle convertible. We promise you a ride under the sign of love and discovery of Provence.
Valentine's Day is coming up, it's time to please and indulge. It's just another opportunity to prove to her that you love her. This day is dedicated to all your past moments, your memories and your projects. It's not a day to remind you that you're in a relationship or single, but rather a day to show your love to those you love. Saying I love you to your mother, father or relatives, these touching words are always heartwarming especially at the beginning of this new year !
You don't have to pull out all the stops, a simple vintage car ride, a tour of the area, lunch at a delicious restaurant or a spa session, there are so many romantic activities to enjoy together !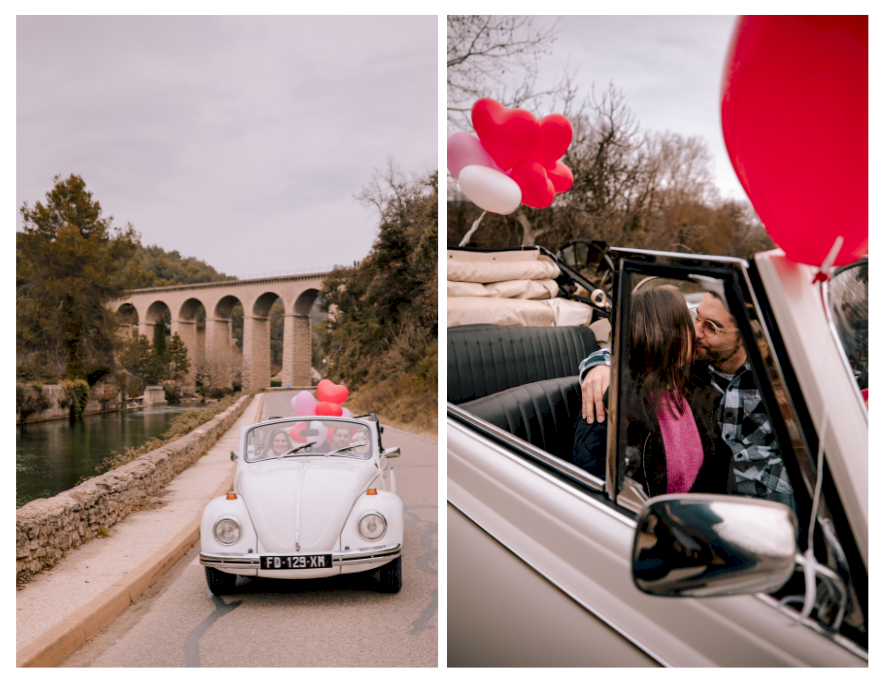 Photos credit : Agencelabellevie

Drive her (or him) through the landscapes of the Luberon or the Alpilles in a 2CV, Mehari or Beetle. Each model is romantic in its own way. At the wheel of a 2CV, you will live an extraordinary experience in this small car.

In a Mehari (with a good sweater for the season), drive along the small roads of Saint Rémy-de-Provence, in the middle of the olive trees. Take refuge under a plaid (provided by us) because in the end that's what love is ! We are happy together no matter where we are. It is said that being under the rain is romantic so why not in a Mehari ? And nothing prevents you from stopping to drink a hot chocolate in a café.
The latest model is a Volkswagen Beetle. Glamorous and elegant, it represents the perfect day for Valentine's Day: a romantic ride in a vintage car with your sweetheart ! With the top up or down, you'll see the landscape as you've never seen it before.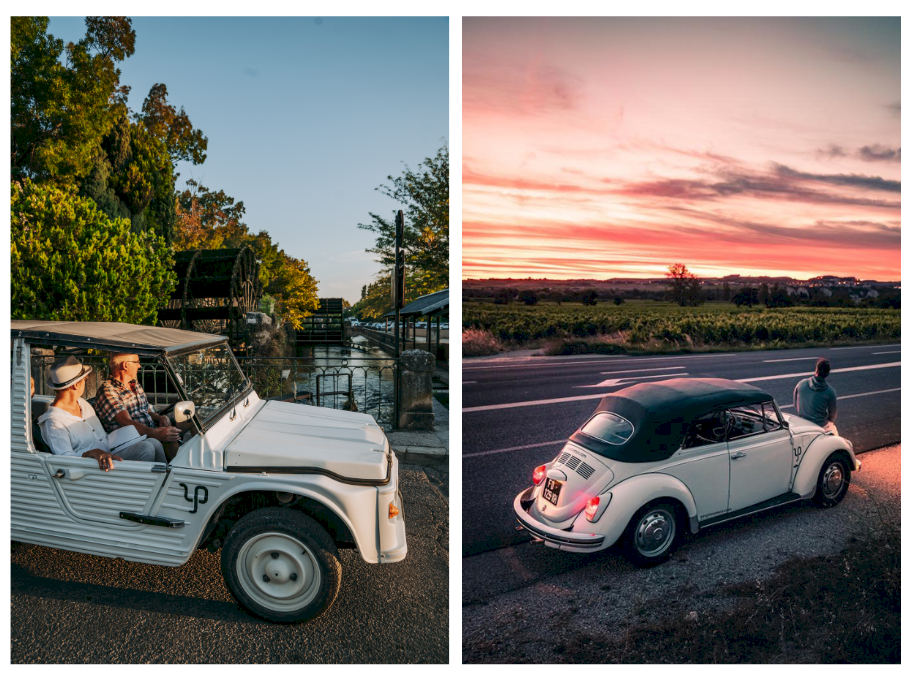 Photos credit : Mary Quincy / Lezbroz

We like to share with you our secret places and our favorites. Here are some romantic places to impress your partner !
The advantage of winter is that there is no need to wait until 9pm to admire the sunset. Enjoy this radiant show at the Table d'Orientation in Les Baux-de-Provence.

Stroll hand in hand through the small village of Saignon. There is nothing more romantic than its square with its fountain and the ivy covering the stone facades of the houses.
If you need an even more unusual ride, discover the Ochres of Roussillon. Park the 2CV or the Coccinelle in this colorful village and stroll at your own pace.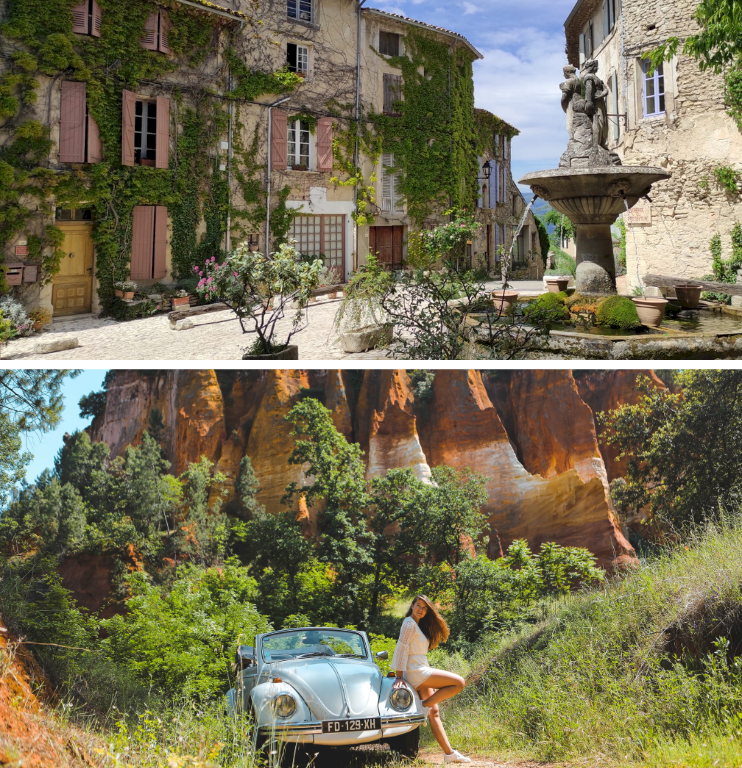 Photos credit : Natu're Provençale / Onmetlesvoiles

I give you a last romantic place: the Pont du Gard.
This majestic work testifies to the greatness of the Roman Empire at that time. This monument has survived the centuries and still stands before us in 2023. In the end, there is an infinite love between this monument and its territory !
So many couples have found or fallen in love again in our vintage cars.
More than just renters, we are the creators of your moments of happiness ! Thank you to all the couples who share their memorable days with us !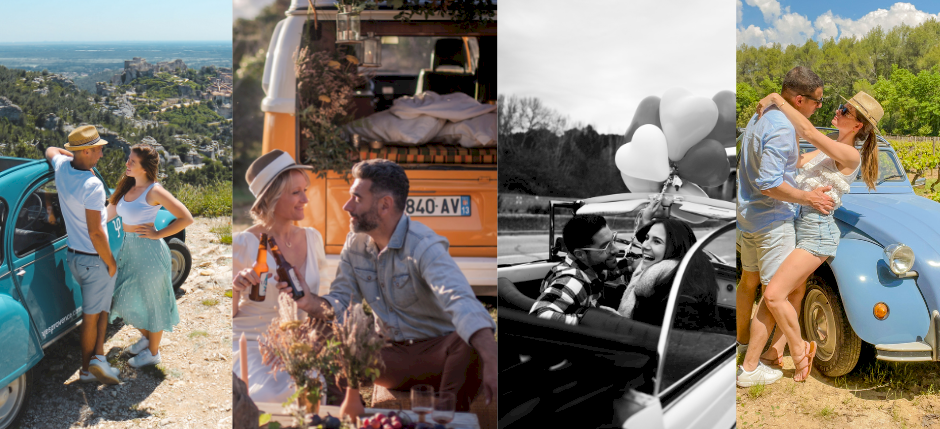 Photos credit : Onmetlesvoiles / Manonviag_photographe / Agencelabellevie / Lalotte83