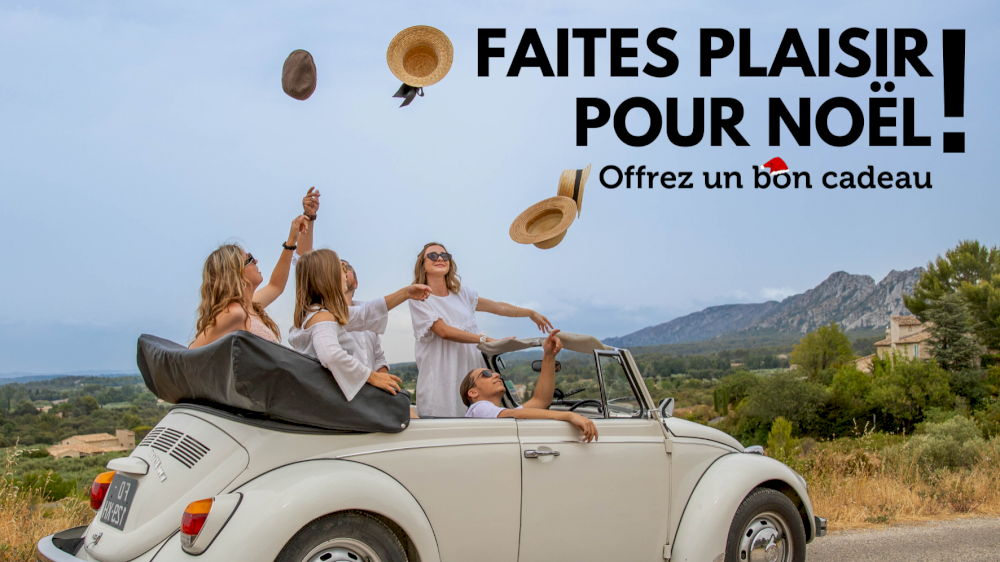 Give pleasure for Christmas: Offer a gift voucher
Only a few days left to find gifts that will please everyone. Looking for inspiration? Don't look any further, offer a vintage car ride. Whether it's for an avid friend, the grandparents or your aunt, make a statement!
A quick and original gift
Only a few days left to find gifts that will please everyone. Lack of inspiration? For a last-minute gift, the gift certificate always works! Whether it's for an avid friend, grandparents or an aunt, our cars are sure to please anyone with their color and style.

Choose the 2CV for the retro and Frenchy side, the Mehari for a ride in total freedom, the Beetle cabriolet will surely please a couple to whom you like to please or the Combi Van T2 to go back to the crazy years. Discover the area by motorhome.


Choice and fun
On board our deucheuches, the watchwords are relaxation and fun. We propose you an escapade at the rhythm of the pretty roads of Provence. Visit the villages, stroll through the streets in search of delicacies or crafts, and discover the varied landscapes according to the seasons. Provence has a lot to offer you (and it's even better in vintage cars). You will appreciate even more the roads, the colors while driving hair in the wind !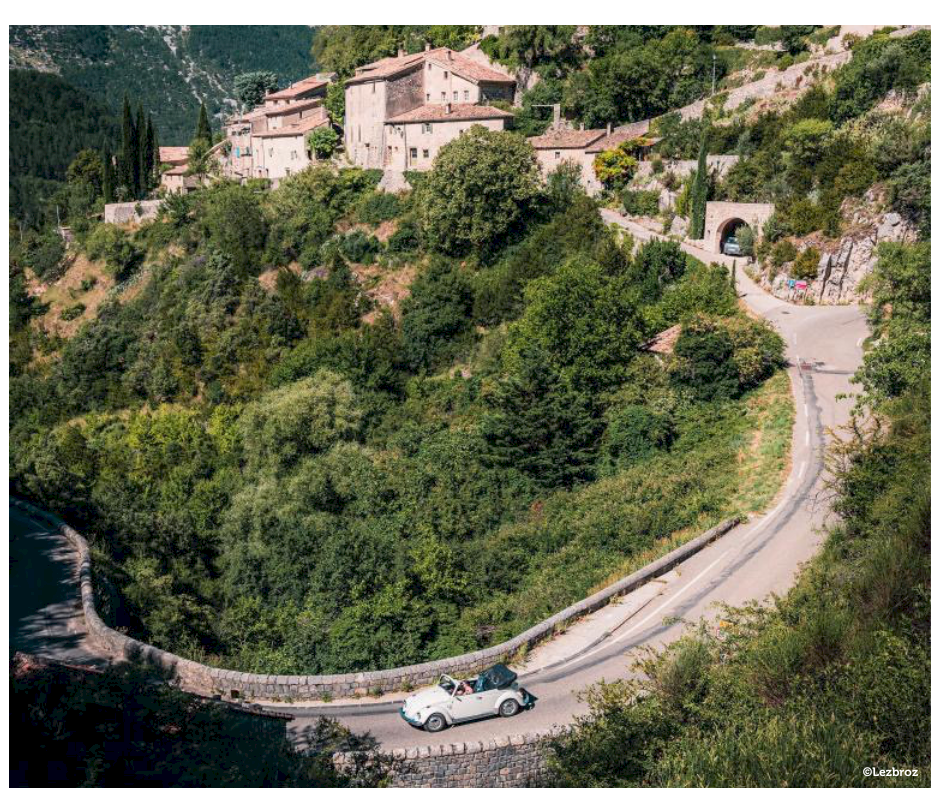 4 car models for 4 different rides
With your family, your partner or your friends, explore the Alpilles or the Luberon, drive each one in turn, you'll see you'll have stories to tell on your return. Because that's also what our cars are about, there is not only an engine and 4 wheels, there is also a driver and passengers who spend an unforgettable moment !


- Live a memorable experience with your children. The whole family will get together in a Volkswagen van for a few days. You will meet, play games and wake up in a natural environment! Kitchen area, camping equipment, extra beds, you will have your own house on wheels !


- Climb aboard a Volkswagen Beetle from the 1970s, its charm fits perfectly into the Alpilles landscape, between scrubland and olive groves. We guarantee you a romantic moment to the sound of cicadas !


- Let's not forget our darlings, the Deux Chevaux. Driving a 2CV in Provence, a dream for some! Our 19 2CV are not alike, they all have their colors and their small differences. Their common point? They will take you everywhere !


- Its Citroen cousin, the Mehari is our favorite for a ride under the sign of freedom and idleness. This vehicle is made for driving and stopping wherever you want and enjoying the simple things in life! We even have an electric model! No more gears to shift and a total silence, to listen even better to the song of the birds and the cicadas.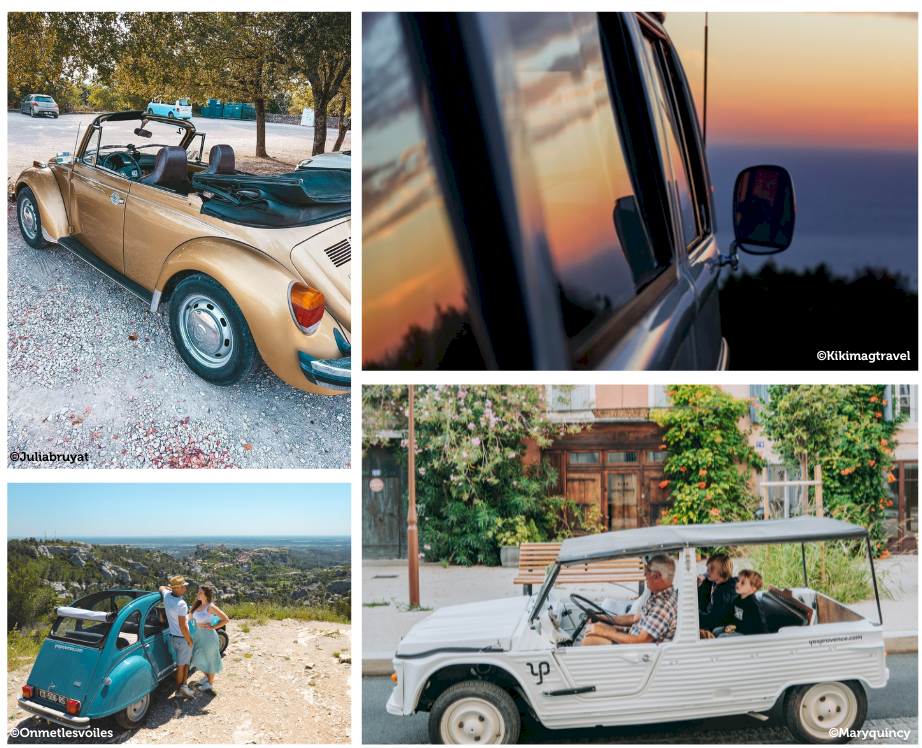 A personalized gift awaits you
We send you the voucher in pdf, print it and pack it at your convenience, it will make you smile, be sure!
You don't want to set a date? Good, take your time to organize your roadtrip in Provence. Our gift vouchers are valid for one year from the date of order. Don't hesitate to contact us to know the best time to come if you want to see the lavender fields, the sunflowers in bloom or even the Mediterranean Sea. We will give you some tips and ideas for your trip.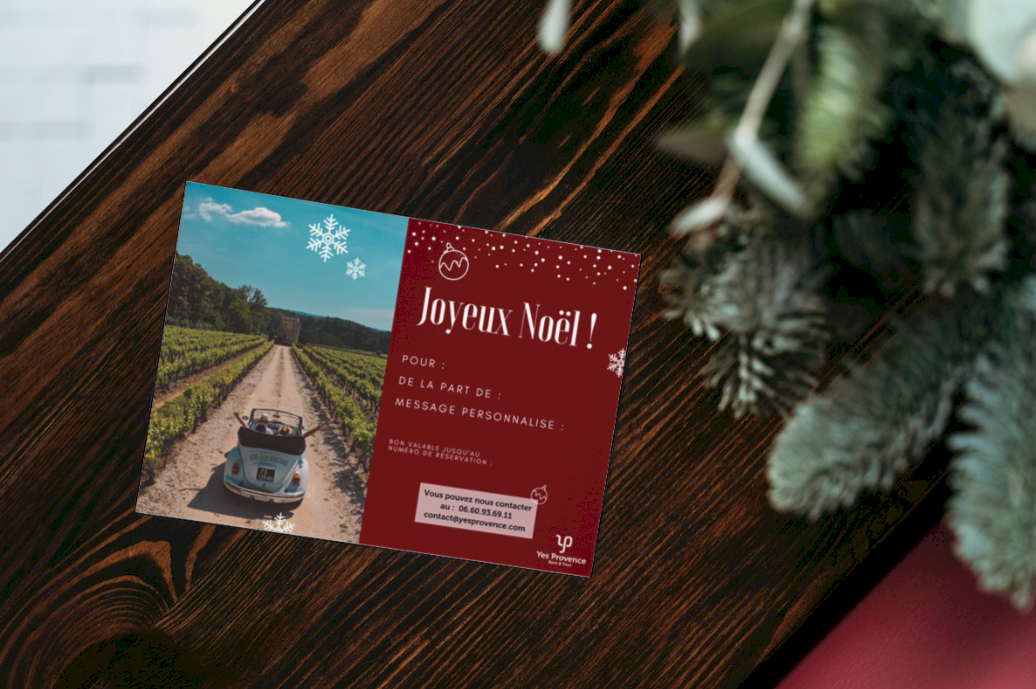 Vintage car rental in Provence
Citroën 2CV, Citroën Mehari, Citroën Mehari electric, Volkswagen Beetle Convertible, Combi Van T2 Volkswagen and Combi van T1 Split VolskwagenRental in PACA region Provence, Alpilles, Luberon, Avignon, Camargue and Marseille For stroll, wedding, birthday, bachelorette / stag party, groups, corporate seminars, team building
https://yesprovence.com/fr/
https://www.vintageroads.fr/